Where do people who work at mega banks, gamers, concierge shoppers, and technologists hang out? There's probably no physical space that can hold their varied attention. But on the metaverse? They're probably chatty neighbors. 
What is the Metaverse? 
The word "metaverse" is a combination of the words "meta" and "universe." in his science fiction novel Snow Crash, Neal Stephenson coined the term when he described a virtual world created by computer programmers and used by people worldwide.
The metaverse refers to a virtual world—an online shared 3D space—where you can create an avatar and your ideal world. You navigate the metaverse the same way the physical world, where there are shops, schools, businesses, and currency. Except it is all virtual.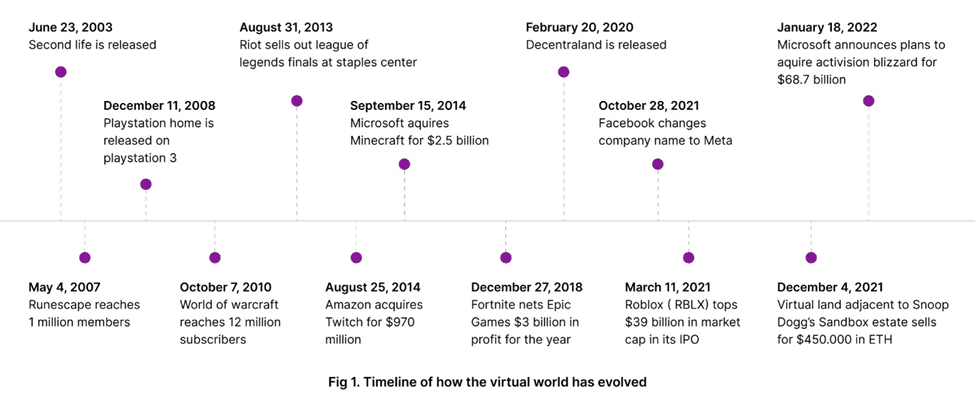 The metaverse is where you can attend a virtual concert, such as the one Lil Nas X performed with the online gaming platform Roblox during the pandemic. It's where you can have an immersive learning experience through simulated customer scenarios and experience a sense of community when you are a remote worker through virtual onboarding techniques. It's where you can attend a Fashion Week such as Decentraland's Metaverse Fashion Week in March 2022, which featured brands such as Dolce & Gabbana, Estée Lauder, and Etro.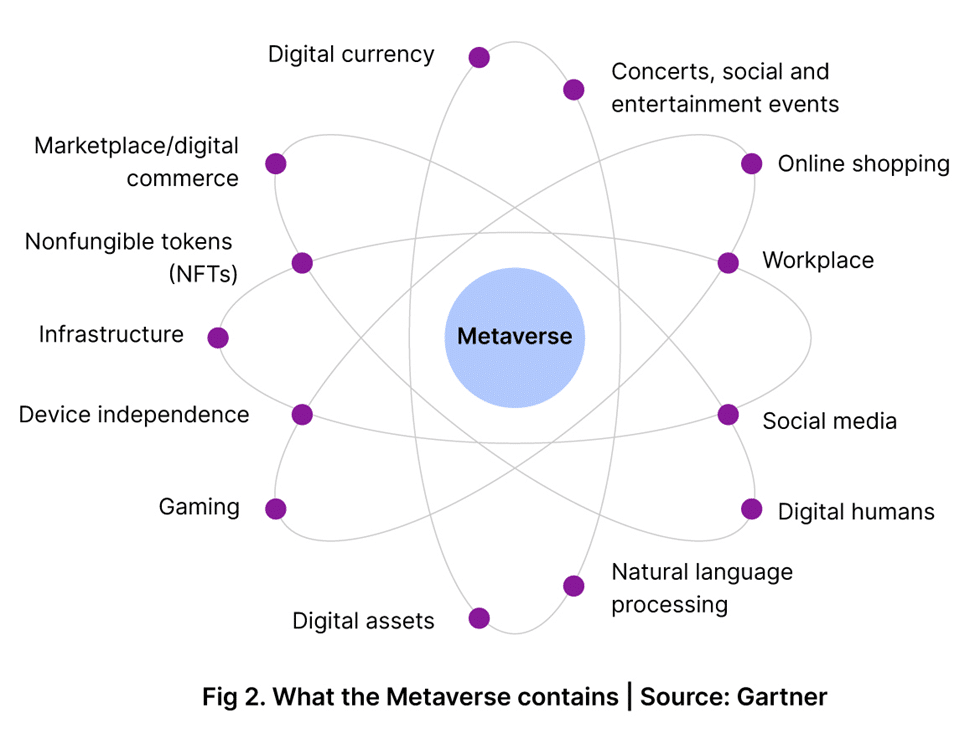 From decentralized web applications that enable users to control their own identity and data to spatial computing through which users experience the intersection of physical and digital worlds, there are a ton of innovations taking place in the metaverse right now. Each one is designed to bridge the digital/physical gap and make the metaverse a reality. Why? The benefits of the metaverse are numerous and far outweigh the disadvantages.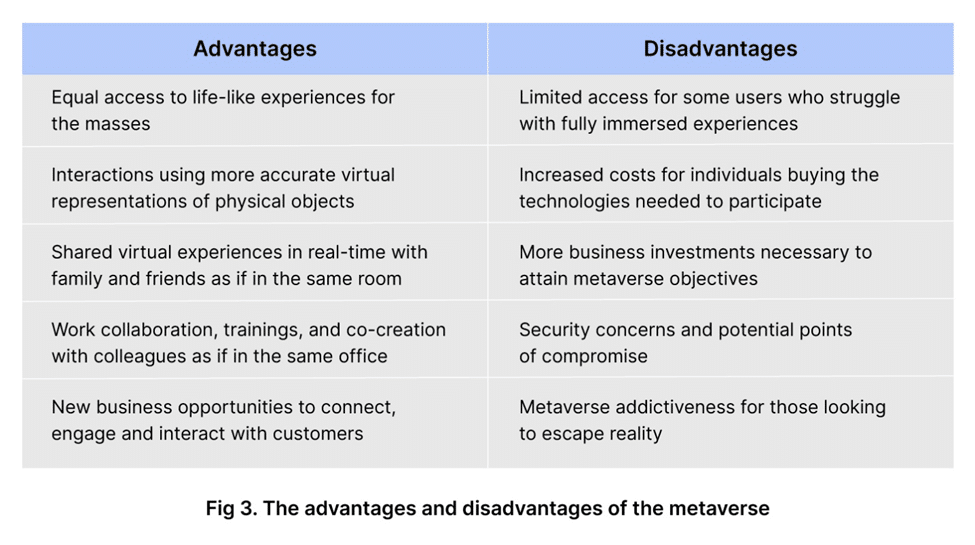 The business of the metaverse
 According to McKinsey, the metaverse could generate $4 trillion to $5 trillion across consumers and enterprises. J.P. Morgan was the first bank to establish a presence in the metaverse and predicted a market opportunity of $1 trillion in the virtual real estate area. Roblox, a gaming platform, attracts over 50 million users and lets anyone create and monetize their gaming worlds. Decentraland, a gaming and marketing platform, operates through a decentralized democracy and has its own cryptocurrency. Fortnite, a gaming platform, attracts millions of tech-savvy gamers to its platform. They also feature live concerts with Travis Scott and Billie Eilish, to name a few.
In addition to an entire virtual world, the metaverse has many businesses use cases for today's world. For example, virtual environments help train employees on the job without endangering them, and virtual simulations provide an immersive educational experience in the classroom. In addition, the medical industry uses augmented reality to help perform surgeries on live patients, and automobile dealerships use virtual reality to showcase interior and exterior options to potential customers. Metaverse banking offers customers the ability to view their balance, pay their bills, and make transfers through AR/VR platforms. The metaverse offers insurers the ability to use blockchain-based tokens while commerce is going strong in the virtual world. According to McKinsey research, around 79 percent of consumers active on the metaverse have made a purchase, mainly to enhance their online experience. The applications of a virtual, simulated world are varied and numerous.
Metaverse is gaining traction
The most prominent players in technology are betting big on the metaverse. Meta, formerly Facebook, has a team dedicated to developing metaverse products. Google has been dabbling in augmented reality for a while now—its Google Lens is one of the most promising products. Microsoft is trying to add a 3D environment to Microsoft Teams with holographic images and virtual avatars. Apple is reportedly researching augmented reality smart glasses. Amazon is leveraging Metaverse blockchain to launch a virtual economy with an intent to increase its popularity and consumer base.
The noise around the metaverse is growing louder by the minute, and with much experimentation and proof of concepts in the works, it is only a matter of time before the metaverse goes mainstream. Life, as we know it, is going virtual.