There's a tendency among enterprises to view credit rating agencies as gatekeepers to their risk management reputation and investor attractiveness. These agencies also serve a more important role. Just as a personal trainer assesses your fitness levels and offers you a clear path to better health, credit ratings agencies give enterprises a detailed roadmap to improve their financial and operational standing.
Within the insurance industry, there are few better trainers than AM Best. The ratings agency undoubtedly offers one of the best benchmarks for insurance carrier creditworthiness, with over 16,000 companies falling under its radar.
It's true that many factors go into defining the AM Best rating for a given carrier, including balance sheet strength, operating performance, and risk management. Over the past few years, more and more companies are realizing that AM Best's innovation score is becoming an important factor.
This comes as no real surprise, given that innovation is one of the strongest growth predictors in the current insurance landscape. In 2020, for example, companies that scored low on innovation ratings experienced net premium growth of only 1.9% on average while those in the lead averaged 6.5% growth – especially significant in an era where digital technologies are redefining how consumers interact with brands.[1]
The AM Best Approach to Measuring Innovation
On the heels of these developments, it's easy to see why AM Best considers innovation an important factor in determining the financial stability and operational efficiency of insurance companies. Innovation ratings are also a critical factor in establishing an insurance company's ability to adapt to changing market conditions and meet the evolving needs and expectations of its customers. In most cases, companies that leverage new technologies and innovative practices to improve their products and services, streamline processes, reach new markets, and manage risk more effectively are often rated more favorably.
In scoring innovation, AM Best takes stock of two elements – innovation inputs and innovation outputs. The former includes the different parts of a company's innovation efforts, while the latter covers the outcomes and impact of their innovation programs. While the sum of these two elements constitutes the innovation score, it's important to note that innovation outputs are given a double weightage over inputs.
Innovation Inputs are scored based on several factors.
Resources: This element of the scoring system looks at how resources have been allocated toward innovation, whether the organization has the capability to attract innovative talent and a strategy for managing those resources well.
Culture: Ideally organizations should foster a culture that stimulates experimentation and risk-taking in pursuit of innovation. At the same time, the enterprise must have effective mechanisms to facilitate rapid knowledge transfer and collaboration across the enterprise.
Leadership: Are executives a key driver of innovation success? Does the enterprise have top management buy-in for its innovation strategies? Do they have demonstrably richer organizational collaboration and communication that facilitates innovation?
Process & Structure: Integrating innovation into your mainstream ops is also key to a good innovation score. AM Best also looks at the quality of data management, governance, how data is used to drive solution engineering, decision-making and problem solving.
Innovation Output, on the other hand, takes into account expense ratios, revenue growth, customer centricity, product design, customer retention, agility and adaptability, and brand recognition. The agency also looks to establish the level of transformation that an enterprise has undergone, and scrutinizes their processes and technologies, and includes cross-industry peer comparisons in this regard.
How Can Your Enterprise Maintain or Increase Your Rating?
Having worked with industry-leading insurance carriers, SLK offers a finely calibrated and highly scalable set of enterprise solutions that will help companies improve their innovation score. Part of our offerings includes a framework designed to drive innovation value for enterprises – one that takes a four-stage approach to business value realization.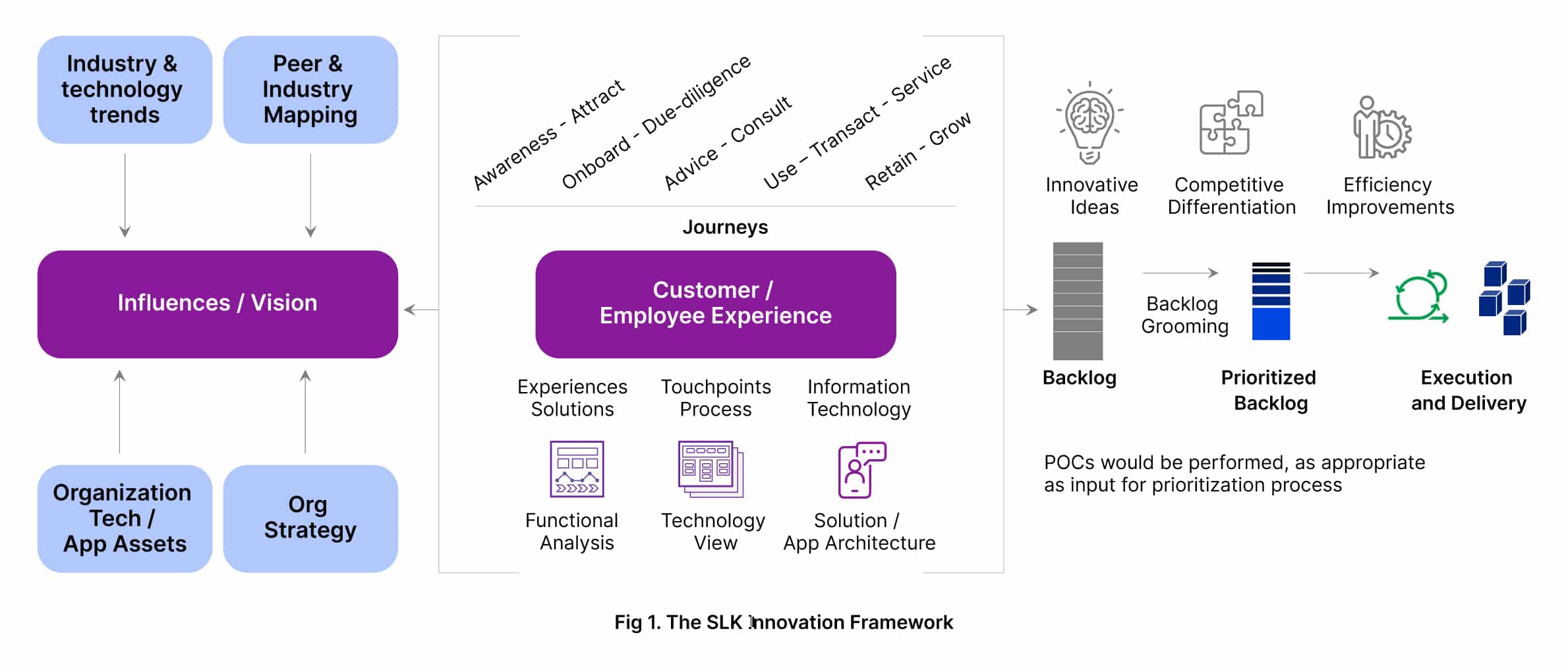 Strategic Alignment: The first step involves leveraging a mix of industry and tech trends, peer and industry mapping, internal technology audits, and organizational strategy assessments. Using this data, we build a roadmap to realize your innovation vision, and help you identify the operational spaces with the greatest short- and long-term innovation potential.
Pragmatic Solutioning: The second stage translates strategic thinking into actual customer and employee experiences. This means mapping out stakeholder journeys both upstream and downstream, including customer on-boarding, due diligence, claims processing, value-added services, and customer retention. By engaging in this exercise, we're able to quickly build solutions that accelerate your enterprises innovation velocity across the areas that drive the most value.
Fitting Solution to Purpose: By this stage, innovation teams are primed and ready to start designing products, platforms, and features that drive real competitive differentiation and efficiency optimization. As part of our agile DevOps protocols, product managers review and groom backlog items to prioritize promising ideas for PoC development.
Value Realization: The final stage involves execution and deploying ideas and products that have successfully made it through PoC and trial stages and optimizing them for even greater value delivery.

The Tech Behind Innovative Insurance Enterprises
A great example of how this framework can accelerate the pace of innovation along the entire value chain is in underwriting. We leverage rapid data extraction using AI-driven Natural Language Processing to expedite the on-boarding process and eliminate significant chunks of manual effort. At the same time, data analytics models help your users quickly identify insights on opportunity-rich market areas, while math modeling techniques optimize your submission prioritization for greater conversions. Finally, AI-powered data enrichment and calibration helps speed-up decisioning on claims, and help your organization begin the push toward end-to-end cognitive process automation and STP for all processes.

Not only do all the above help your organization stand out in terms of innovation efficiency, but they can also dramatically improve operations by eliminating manual processes and building an innovation-first culture.
The Race to Stay Relevant Is Fueled by Innovation
In a rapidly evolving digital landscape, innovation is no longer a nice-to-have element that only the largest carriers can afford – it's essential to staying competitive and mitigating risk. By investing in research and development, embracing new technologies, and creating new and innovative products, insurance companies can remain relevant and provide the level of service and protection that their customers expect. With the increased focus on innovation in current AM Best ratings, it's safe today that if a given enterprise wants to stay relevant, they need to find both technological and cultural mechanisms that keep them ahead of the pack.
If you'd like to know more about how SLK can help you raise your innovation benchmarks and volume, get in touch with us.